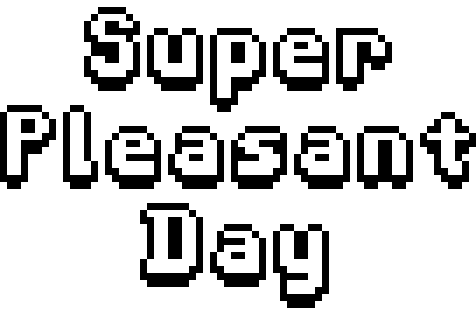 SuperPleasantDay(Early Access)
SuperPleasantDay Devlog
A game that isn't a game but is still kinda a game

Hey there! I'm Boxhead and this is SuperPleasantDay, a top-down survival simulator where staying alive is easy and the entertainment is nonexistent. This is a side project I've been meaning to work on for some time now and have finally gotten around to it. In many ways, this is going to be a experimental project for me. This is my first time blogging, other than posting gifs to my twitter (follow me @boxheadpixelart) so I apologize upfront for not posting regularly or going about updating a devlog in a very unusual manor. Thanks very much already, for checking out the thread and please by all means, if you like the game let me know and if you have any ideas feel free to discuss them with me here or anywhere else. Now less about the idea of a devlog and more about SuperPleasantDay.
SuperPleasantDay(aka SPD) is a top down survival simulator where survival is easy. Instead of struggling with hunger and wild beasts hunting you down you struggle with boredom. Now I know what you are thinking. "A game where you struggle to overcome boredom? Isn't that like the whole point of games int he first place? That isn't innovation or experimental you are just making a boring game" And you are most likely right, however, The idea of a game where you discover and pursue your own goals without ever "failing" or losing progress is exciting to me. I find a lot of games there days are very straightforward with there use of fail-states. You play the game the way the designers intended. Which isn't a bad thing, not at all. Most of my own games do this and it is probably a good idea to have win/fail states be very clear. This game is my "What If." My way of learning and understanding why a game where you figure out how to spend your time inside it is a bad idea. I have a few features planed other than the existing trees and fire but the game is not planned out and its design is fluid. If you have any ideas for the game or any objections to what I've added please talk to me about them. I'm always open to dialogue either here on Itch or on Twitter (or via email if you are shy) This is a learning process and I'm excited to gain some new information. A little scared of doing it in a public way but ehh, I'll get over it eventually.
- Boxhead

Email - boxheadpixelart@gmail.com
Twitter - @boxheadpixelart - https://twitter.com/boxheadpix...
Files
SuperPleasentDay.exe(Earliest of Alpha build)
2 MB
Jun 27, 2017
Get SuperPleasantDay(Early Access)